Righteous Brothers Australian 1960's Albums

Last updated 07 October 2018 - Updated items in red

---
The first listed catalog number prefix indicates the mono issue, the second is the stereo issue.
As Festival Records released the Righteous Brothers material from both the Moonglow and Philles labels, this discography lists those releases in chronological order.
Calendar Records was the budget reissue label of Festival Records, in some instances the original Festival album covers were used and stickers placed over the Festival logo and catalog numbers.
---
Righteous Brothers albums
You've Lost That Lovin' Feelin'
Ko Ko Mo
Old Man River
Look At Me
What'd I Say

The Angels Listened In
Sick And Tired
Summertime
Over And Over
Soul City
There's A Woman

Stereo and mono issues of the album have alternate versions of "The Angels Listened In" and "Summertime"
Stars Of Shindig
Featuring "This Little Girl Of Mine"



Festival FL31,620 / SFL931,620 (1965)
Repackaged as "The Righteous Brothers"


Calendar R66-20 / SR66-920 (1966)
Baby, What You Want Me To Do
My Tears Will Go Away
Fannie Mae
I Just Want To Make Love To You
Something's Got A Hold On Me

This Little Girl Of Mine
Try To Find Another Man
Night Owl
Bring Your Love To Me
For Your Love
Let The Good Times Roll
My Babe
Bye Bye Love
B Flat Blues
Little Latin Lupe Lu
My Prayer

In That Great Gettin' Up Mornin'
Georgia On My Mind
Koko Joe
I'm So Lonely
Love Or Magic
Fee-Fi-Fidily- I-Oh
Justine
Burn On Love
I Still Love You
Gotta Tell You How I Feel
I Need A Girl

You Can Have Her
Cryin' Blues
At My Front Door
If You're Lying,You'll Be Crying
There She Goes (Paramours)
Just Once In My Life
Big Boy Pete
Unchained Melody
You Are My Sunshine
The Great Pretender
Sticks And Stones

See That Girl
Ooh-Poo-Pah-Doo
You'll Never Walk Alone
Guess Who
The Blues
Ebb Tide
God Bless The Child
Hot Tamales
Hallelujah I Love Her So
She's Mine All Mine (Baby She's Mine - on record label)
Hung On You

(I Love You) For Sentimental Reasons
The White Cliffs Of Dover
Loving You
Without A Doubt
Late Late Night (Mike Patterson Band)
Georgia On My Mind
Little Latin Lupe Lu
For Your Love
Try To Find Another Man
You Can Have Her
Justine
I Just Want To Make Love To You

Fannie Mae
Something's Got A Hold On Me
My Prayer
Let The Good Times Roll
Bye Bye Love
At My Front Door
This Little Girl Of Mine
(You're My) Soul And Inspiration
He Will Break Your Heart
Stand By
In The Midnight Hour
He
I'm Leaving It Up To You

Turn On Your Love Light
Hey Girl
Mine All Mine
A Change Is Gonna Come
Bring It On Home To Me
Rat Race (Righteous Brothers Band)
Go Ahead And Cry
Something You Got
I Believe
Save The Last Dance For Me
I've Got The Beat
Let It Be Me

What Now My Love
Stagger Lee
Drown In My Own Tears
Big Time Ben
Island In The Sun
Thing's Didn't Go Your Way
On This Side Of Goodbye
Don't Fight It (listed as vocal by Bob Hatfield)
I Who Have Nothing
Yes Indeed
Harlem Shuffle
Soulville

Along Came Jones
My Girl
Hold On, I'm Comin'
A Man Without A Dream
Will You Love Me Tomorrow
Jimmy's Blues
Greatest Hits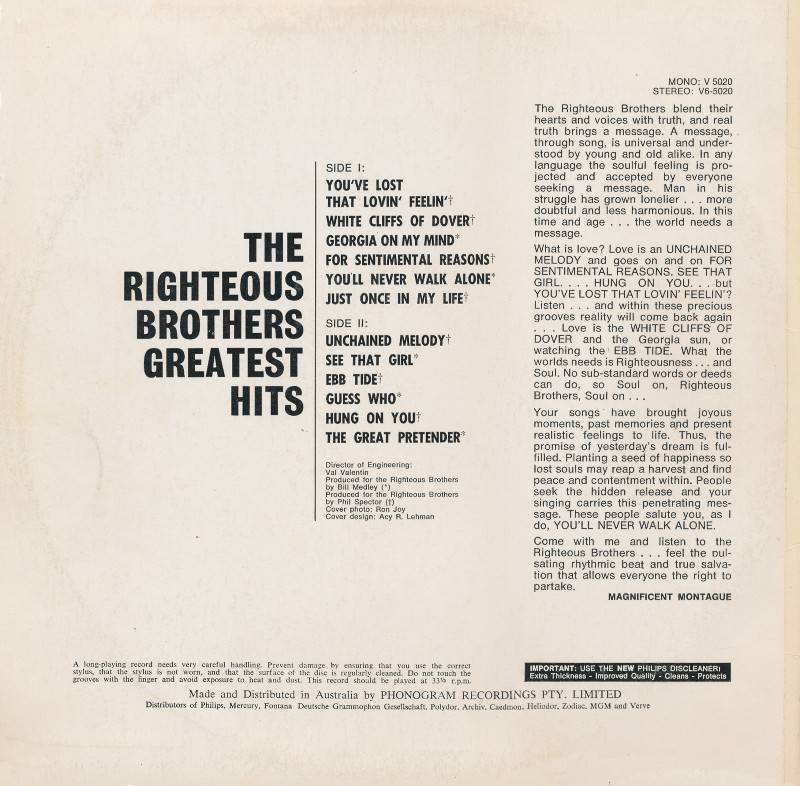 Verve V/V6-5020 (1967)

Issued on CD in Australia on Polydor 847 386 2 (1990) plus the Standards album with the omission of That Lucky Old Sun but included (You're My) Soul And Inspiration and He.
You've Lost That Lovin' Feelin'
The White Cliffs Of Dover
Georgia On My Mind
(I Love You) For Sentimental Reasons
You'll Never Walk Alone
Just Once In My Life

Unchained Melody
See That Girl
Ebb Tide
Guess Who
Hung On You
The Great Pretender
Been So Nice
Stranded In The Middle Of Noplace
If Loving You Is Wrong (I'm So Sorry)
Here I Am
It's Up To You
So Many Lonely Nights Ahead

I Don't Believe In Losing
Love Keeps Callin' My Name
(I Need) Someone Like You
You Bent My Mind
Without You I'd Be Lost
Standards

No image available

Verve V/V6-5051 (1968)
A Side: Bill Medley
That Lucky Old Sun
That's All
My Darling Clementine
All The Way
Country Boy
Without a Song

B Side: Bobby Hatfield
Since I Fell For You
Come Rain Or Come Shine
Secret Love
If I Ruled The World
Somewhere
One For The Road

(Live Recording)
No image available
Verve V/V6-5058 (1968)



Mono recording issued on CD in Australia on Polydor 847840-2 (1990)
Let The Good Times Roll
(You're My) Soul And Inspiration
Little Latin Lupe Lu
You'll Never Walk Alone
My Babe
That Lucky Old Sun

Oldies But Goodies Medley
Ooh Poo Pah Doo
Unchained Melody
You've Lost That Lovin' Feelin'
Gospel Medley
(You're My) Soul And Inspiration
What Now My Love
My Prayer
Let The Good Times Roll
Bye Bye Love

Go Ahead And Cry
Little Latin Lupe Lu
I Just Want To Make Love To You
This Little Girl Of Mine
Justine
Loving You