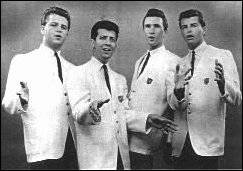 Last updated
03 January 2021 -
Updated items in red
The Paramours US singles
(In above photo l-r; Mike Rider, Sal Fasulo, Bill Medley, Don Fiduccia)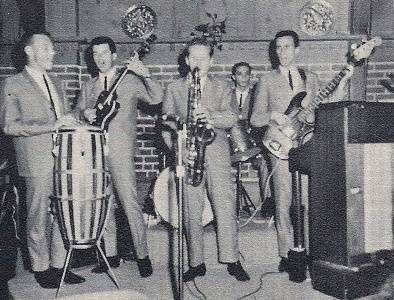 The Paramours US single
(In above photo l-r; Bobby Hatfield, Don Fiduccia, Johnnie Wimber, Angelo Biondi, Bill Medley)
The Paramours Australian single
US Penny Richards single featuring The Paramours as uncredited backing singers
The Only Way
I'll Be Yours

Some issues of the single credit Mike Patterson as Director Of Orchestra And Chorus.
Righteous Brothers US albums featuring the Paramours
Various Artists US albums featuring the Paramours
You Heard Them Here First (Rock Icons, Before They Were Famous)

Prison Break (original production master with sound effects)
Don't Do It - The Smash Records Story 1961-62

That's The Way We Love
The Paramours Mercury sessions (02/1961)
21595 (PB4056)

Cutie Cutie
Smash 1718
21596 (PB4057)

That's The Way We Love
Smash 1701
21597 (PB4058)

Miss Social Climber
Smash 1718
21598 (PB4059)

Prison Break
Smash 1701
21598 (PB4060)

Long Tall Sally
Unissued
In the immediate following sequence of five Mercury master numbers by the Diamonds, - Bill Medley wrote two of the songs.
21601 (PB4844)

Chimes In My Heart
Unissued until 1996
21604 (PB4847)

Woomai-ling
Mercury 71818
It wasn't until 1996 that "Chimes In My Heart" was eventually released on the Polygram 32734 CD "Best Of The Diamonds - The Mercury Years".
The Paramours and the Diamonds both had Nat Goodman working as their manager and he is credited as the producer of the three Bill Medley tracks on the Sonny & Cher & Friends album "Baby Don't Go" on Reprise RS 6177 in 1965. Two of the tracks were issued on the Bill Medley Reprise 0413 single "Leavin' Town" / "I Surrender (To Your Touch)" released in November 1965, the other track being "Wo Yeah".
Former members of The Paramours solo singles
1963 Moonglow 218 (US)
The Way You Look Tonight / Hey, Angelina
1963 Moonglow 227 (US)
Time After Time (Fiduccia) / Hey, Angelina

1963 Moonglow 5203 (Belgium)
1963 Heliodor 453134 (Germany)
Blame It On The Bossa Nova / (B side Misirlou by Ray Maxwell)
Angelo Biondi

1962 Moonglow 5185 (Belgium)

Linda Mari / La Spagnola

1962 Gend 30 (US)
1962 Moonglow 5189 (Belgium)
1962 Artone MG-24.137 (Holland)
1962 Derby DB-5016 (Italy)
1962 Sonet T-7551 (Denmark)
1962 Disques Pop PO-45-S-292 (France)
1962 Vogue Schallplatten DV-14034 (Germany)
Buona Notte Bambina / Bolero Blue
Angelo Biondi

1962 Moonglow 5195 (Belgium)

Tintarella / Liz

Angelo Biondi

1963 Moonglow 5202 (Belgium)
1963 Artone MG-24.144 (Holland)

Grazie / Bambolina

Angelo Biondi

1963 Moonglow 5211 (Belgium)
1963 Artone MG-24.147 (Holland)

Son Solo / Il Tango Delle Capinere

---